About Kraus
I play guitar, drums, a home-made synthesizer, organ, bamboo flute and tape-loops. I live in Auckland, New Zealand. I like medieval and Renaissance music, Japanese traditional music, psychedelic music, electronic music 1950s-70s and rock and pop of the same era. And, etc.
I played drums in The Murdering Monsters and The Aesthetics. I co-founded and named The Futurians in 2001, and played on their first album "!Blastov!". I have/am also been in these bands: The Maltese Falcons, Olympus, Pouffe, Mahoney/Kraus, Magic Mountain, Centre Negative, Peak Brain.
If you have any technical or aesthetic questions about my music please contact me, I'd be happy to talk about it.
Photo - click for 300dp-hi rezzer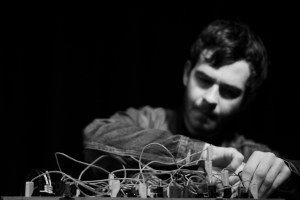 photo by hans van der linden, brussels 2015
Album Cover Art
Here Come the Recorders cover image: 6" x 6" 300dpi jpeg
Cover image by Cosmo Helectra
Interior Castle cover image: 6" x 6" 300dpi jpeg
Cover image by Ducklingmonster
Supreme Commander LP cover image: 6" x 6" 300dpi jpeg
Cover image by Clementine Nixon
Faster Than the Speed of Time LP front cover image: 6" x 6" 300dpi jpeg
Cover image by Florian and Michael Quistrebert
Reviews
Read all known reviews of Kraus on yon PRESS page.
Interviews
For further information, I decided to conduct some interviews with myself. These are listed below. The titles refer to the original source of the questions.
Confessions
Your favourite virtue. Socialism
Your favourite qualities in a man. Tries to be nice and kind and polite. a sweet angel.
Your favourite qualities in a woman. Funny, also ditto
Your chief characteristic. Plodding anxiety
What you appreciate the most in your friends. when they bring food
Your main fault. Can't imagine one
Your favourite occupation. Cleaner. Or violent revolutionary
Your idea of happiness. Blake's 7
Your idea of misery. Answering questions about self
If not yourself, who would you be? A nerdy bedroom musician
Where would you like to live? Deep forest
Your favourite colour and flower. Brown.No, cream. Red
Your favourite prose authors. James M. Cain, Thoman Mann
Your favourite poets. Troggs
Your favourite heroes in fiction. Kerr Avon, Lebedev, and the protagonist in "The Burrow"
Your favourite heroines in fiction. Vera in "Detour" (1945)
Your favourite painters and composers. Klee, The Egyptians, and, again, Troggs. I mean literal troglodytes, not the band.
Your heroes in real life.
Your favourite heroines in real life.
What characters in history do you most dislike. The English
Your heroines in World history. Greenham Common Women's Peace Camp
Your favourite food and drink. Bread, beer. Anything with yeast
Your favourite names. Xerxes
What I hate the most. Classism (note: not a typo, I mean CLASSISM, not classicism)
World history characters I hate the most. Rich people of any country or era
The military event I admire the most. the NLF defence of Vietnam
The reform I admire the most.
The natural talent I'd like to be gifted with. The gift of music
How I wish to die. Me too
What is your present state of mind. Concentrating on typing/drunk
For what fault have you most toleration? Meanness caused by poverty
Your favourite motto. "No man is good enough to be another's master"